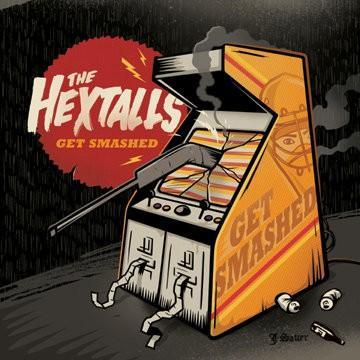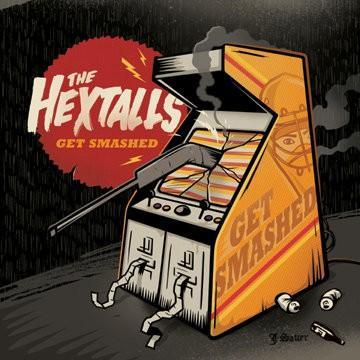 The Hextalls - Get Smashed LP - ALL COLORS AVAILABLE AGAIN!
€14.99
MAY 2022 - we have found some forgotten copies of this LP we've released back in 2012! The jackets were doing pretty bad so we got new ones made. "Get Smased" is available on BLACK, CLEAR RED, CLEAR YELLOW and CLEAR ORANGE VINYL... and the "BUNDLE" (LIMITED TO 5) includes all of them PLUS a copy on SOLID YELLOW VINYL and one on CLEAR BLUE VINYL (less than 30 copies of each were pressed for a mistake by the record plant and never made available for purchase before)!
----------
For the 1st time on vinyl! Seventeen (not yet, but soon to be) pop punk classics in the vein of Panic At The Disco, Paramore, Lady Gaga, Dear Landlord, and whoever else is relevant (moves units) these days. Just kidding! Hextalls sound like the Ramones, but not as good! Do they have songs about videogames? Check! Do they namedrop characters from the Pop Punk Message Board? Check! Autotuning up there with the Copyrights? Check! How can you go wrong?!
SIDE A:
I'm a recluse
My dad vs shania twain
Pacman
I met her at the ropetow
Rally
I don't wanna be a new York ranger
The final countdown 2
Mid record power ballad
My Xbox got the red ring of death
SIDE B:
I'm an alcoholic
Diaper change
We're the castle crashes
Bryan Adams
Tina turner
Kristine
Mark Wilson
I'm hiding your car keys in the garbage
1st run limited to 400 copies, 100 on black wax, 100 on clear yellow, 100 on clear orange and 100 on clear red.
12€ INTERNATIONAL FLAT RATE SHIPPING - ORDER AS MUCH AS YOU WANT WITH NO EXTRA SHIPPING COSTS!